If you're looking for contractors in Dadeville, you've found them! As the area's "first choice" in painting and repair services, we know how to work efficiently and get the job done right. Our contractors are professionally trained and have hundreds or thousands of hours of home improvement experience, improving the appearance of homes in Dadeville.
Interior and Exterior Painting in Dadeville, AL
A fresh coat of paint is one of the quickest, easiest, and most significant changes you can make to the aesthetic of your home or business. Whether you want to touch up faded walls or completely change the vibe, our painting contractors can help you wow your guests.
Residential Painting
Using our residential painting service is a great way to revamp existing colors, make spaces more open and inviting, and finally turn your house into a home that reflects your unique taste.
Commercial Painting
It's no secret that colors affect mood. In restaurants and bars, they can create distinctive atmospheres. In schools, they can help teachers retain students' attention. Commercial painting can overhaul just about any building you can think of — big or small.
Here are just a few of the commercial buildings we paint:
Medical Facilities
Schools
Apartment Buildings
And MORE!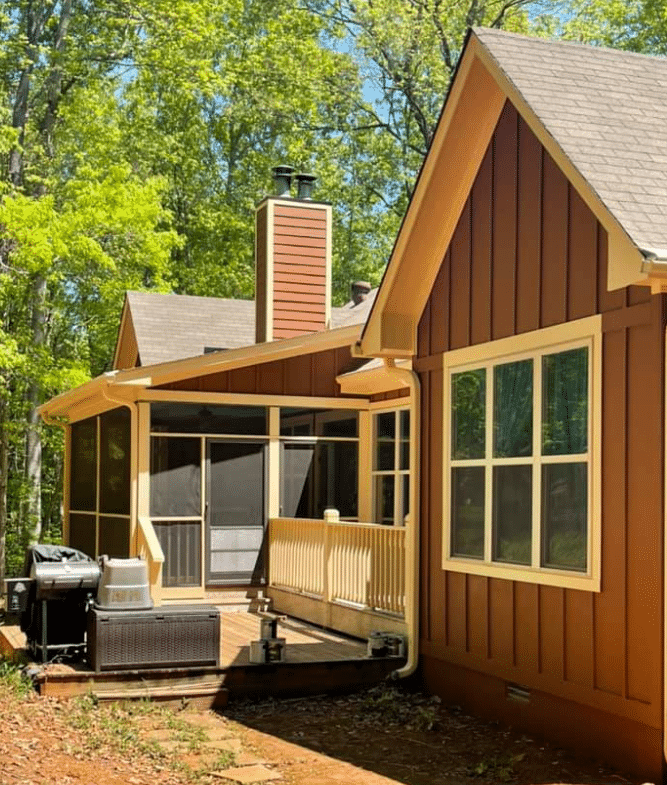 Wood Staining in Dadeville
Staining your wooden surfaces is the perfect way to protect them without covering the natural wood grains. It blocks out moisture and insects like termites and carpenter bees while giving the wood an outstanding finish
Residential Staining
Staining things around your home, such as wooden fences and decks, will help extend the life of the boards by sealing the wood from the outside world.
Hire us for your residential staining needs to save time, eliminate frustration, and protect your wooden surfaces from the elements and pests.
Commercial Staining
Commercial wood staining is great for darkening a room or furniture without using dark paints. It is a classier alternative that is timeless. Whether you want to change the look of wooden furniture or wood wall panels, staining is an amazing option you should consider for your business.
Wood Finishing in Dadeville, AL
From paint to weather-proofing, we do it all. Our wood finishing service is here to make your wooden surfaces look great while protecting them from getting damaged.
Finishing your wood surfaces is important to keep them structurally sound and looking great. You can finish and protect your boards and wooden furniture using these common sealants:
Paint
Stain
Clear, Waterproof Coating
Fence and Deck Finishing
Finishing and wood fences and decks you have at your house is the only way to prevent them from quickly succumbing to the elements. They aren't like patio furniture that you can just bring in — fences and decks must endure the elements all day and night, 365 days per year.
Patio and Outdoor Furniture Finishing
If you have a restaurant or bar, your table, chairs, and bar tops are likely already finished. If they're not, you need to do it as soon as possible. Between cleaning, drink condensation, and spilled liquid, regular use puts a lot of wear and tear on your wooden surfaces. Commercial wood finishing is crucial to avoid having to replace things constantly.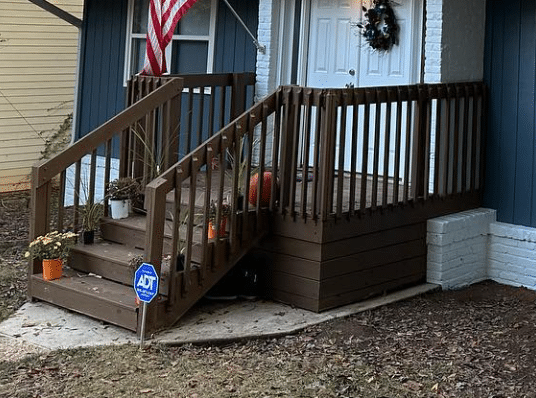 Soft Washing & Pressure Washing in Dadeville
Soft washing and pressure washing are fundamentally different, but you can use both to clean things like windows, houses, businesses, sidewalks, and driveways. They can take years of dirt and grime away, leaving your home or business looking fresh.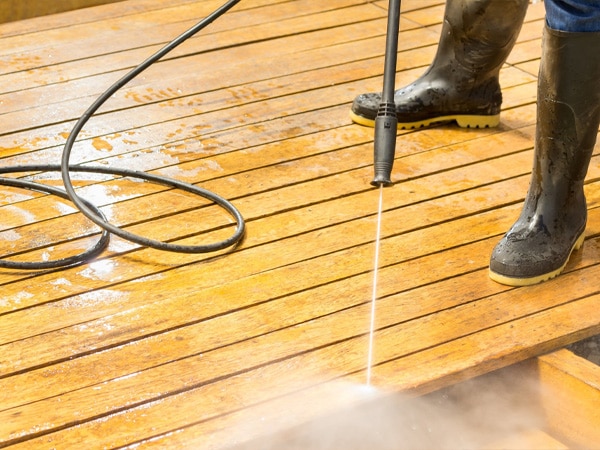 House Washing
For our house washing service, we mix an eco-friendly, soap-like solution with a fungicide and low-pressure water to remove dirt, mildew, and algae from your home or business.
Pressure Washing
House washing should be done at least once yearly to keep the cleaning process easy, your siding and paint in good shape, and to keep your house looking its best.
Pressure washing sprays water at a much higher pressure than the machine we use for house washing. We usually just use water for pressure washing, but the force at which the water comes out can easily cut through stubborn dirt; making it perfect for sidewalks and driveways.
Dadeville Carpentry Services
Using our carpentry service in Dadeville is the perfect way to finally cross off daunting projects from your to-do list. Our professional contractors can tackle everything from simple trim work to entire deck replacements. No matter the size of your job, it is perfect for our team.
Residential Carpentry
Our team's vast knowledge of carpentry work and best practices is second to none. We can handle anything you throw at us efficiently and precisely.
Door Installation
Deck Building
Trim-Work
Sheetrock Repairs
And MORE!
Commercial Carpentry
Does your
Stages
Bars
Patios
Room Alterations
And MORE!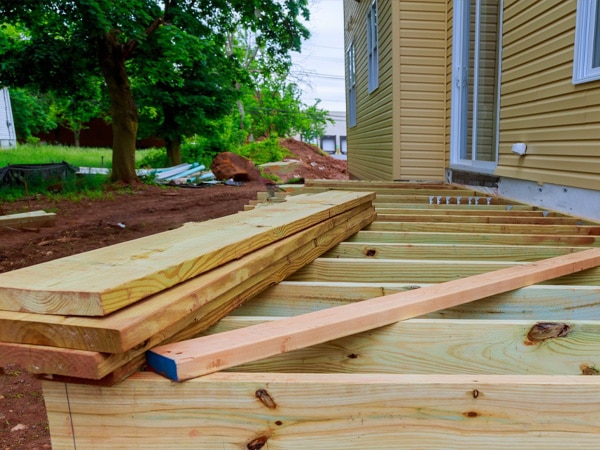 Painting and Home Repair Services in Dadeville, Alabama
Make First Choice your first choice for painting and repair services in Dadeville, AL. All of our staff are expertly trained, experienced in their fields, and always practice the highest quality of safety and professionalism. Contact us today for your free, no-obligation estimate!